Holidays are the perfect excuse to indulge in too much of the wrong kinds of dishes.
There's something about that time of year that make us feel less guilty about binge eating. It's kind of hard to resist going back for seconds and thirds when everything just tastes so delicious.
After the holidays, one of the most popular New Year's resolutions is to diet. If your goal is to lose weight, don't worry, there are other people with the same goal.
Here are some success stories of women and men who faced the same weight-loss challenges.
It has been two years since 48-year-old Lena Smith began her weight-loss journey. So far, she has lost over 100 pounds and has reached her goal weight.
Smith was motivated to lose weight when she was asked to be in her friend's wedding. She knew she wanted to look her best. "I've been big all of my life; it was time for a change," she says.
Throughout the process of losing weight, she stayed positive and did not give up. She started  portioning her food and ate more fruits and vegetables.
In the beginning of 2020, she decided to eliminate meats completely from her diet. Smith admits to having moments when she wanted to go back to her bad eating habits, but she did not. "It was hard in the beginning, because I wasn't used to eating healthy. But I knew it was a mind game" she says. Her advice to anyone who is trying to lose weight is: "No matter what, do not give up."
It's been about six months since Stephanie Makdad began her weight-loss journey. "I was turning 37 and I wanted to do something about my weight," she says.
Makdad is now over 60 pounds lighter and two dress sizes smaller.
She works with a weight-loss program called Noom. The program provides Makdad with nutritional tips, exercising ideas and calorie-intake advice.  
She encourages anyone who is struggling with their weight to try using the program – which also encourages participants to incorporate physical activity into their daily lives. Makdad walks about 5 to 6 miles a day and works out at home – doing push ups, sit ups and squats.
She started portioning her food, eating more fruits and vegetables and drinking more water. Makdad encourages everyone to drink a lot of water. "I am amazed at how good I feel just by drinking more water," she says.
At 46, Ginger Pollock and her 51-year-old husband, Rob, also enrolled in Noom. Both Ginger and Rob decided to start their weight-loss journey as a couple. They have both been unhappy about their weight for years.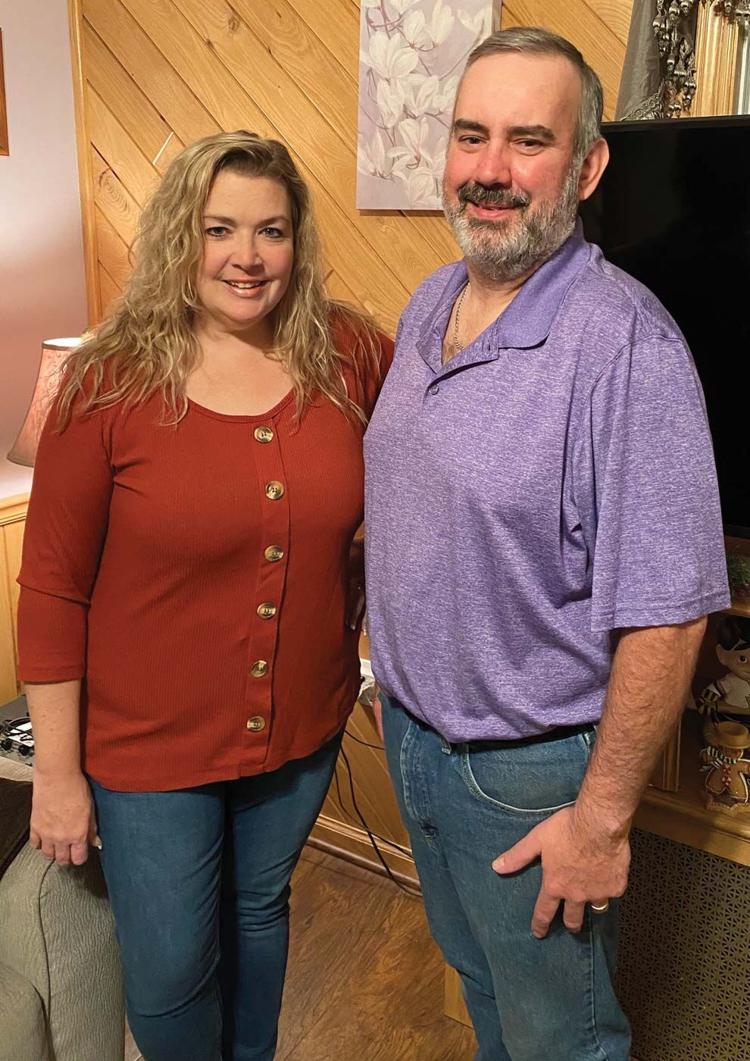 In just four months, Ginger has lost 40 pounds and Rob has lost 53. The couple believes Noom changed their lifestyle in an amazing way. The program provides participants with more than just tips on eating healthier and exercising more, it also offers ways to retrain the mind to think about a healthier lifestyle.
Neither Ginger nor Rob enjoyed going to the gym before starting Noom. Ginger now says that the program inspired the couple to enroll in spin classes and try different physical activities. The couple also enjoy walking.
They learned to eat healthier and enjoy dishes like grilled salmon and haddock, shrimp, chicken, turkey burgers and canned vegetable barley soup. Ginger compares unhealthy eating to having a bad addiction. "You can know that it is bad for you, but you have to be ready to make that change" she says. Rob believes that you must be willing to change your lifestyle.
The biggest challenge will be your attitude towards your weight-loss journey. Try different things to see what fits you best and don't give up.
You can drop those pounds.
Just consider it weight off your shoulders.